BOISE and NAMPA, Idaho. According to the Idaho Statesman, the mayor of Boise recently declared a state of emergency as a result of the recent snowfall in the region. This week, the Boise area received record snowfalls, with the National Weather Service's office at the Boise airport recording 15 inches of snow. The snowfall has been so extreme that in one case, a carport collapsed. In addition to the dangers to buildings, snow poses a unique road hazard to drivers. Right now drivers need to contend with the snow, but as warmer temperatures arise, the snow could lead to flooding issues. What does this mean for drivers? Treacherous roads, increased risk of car accidents, and more reasons to plan ahead or stay at home over the weekend. In fact, many drivers have opted to stay home from work to avoid driving on potentially dangerous roads.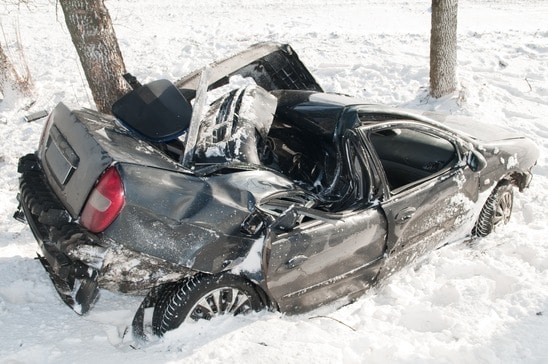 However, if you must hit the road, here are some safety considerations you may want to take. According to the National Highway Traffic Safety Administration, with proper preparation, protection, and preventative measures, drivers can stay safe in snowy conditions. Here are some steps you should take:
Give your car a winter tune up. Check batteries, antifreeze, and make sure you have no-freeze fluid in the washer reservoir.
Pack a rescue kit. Your rescue kit should include a flashlight, kitty litter (for traction), shovel, ice scraper, blankets, and non-perishable snacks.
Plan before you leave home. Some roads are regularly plowed and other roads may require you to carry chains. Check your route for weather warnings before you leave home. It may be best to stick to larger roads rather than smaller roads, because larger roads may be more likely to be cleared.
Safe driving is ultimately the best preventative. Don't drink and drive. Don't use your cell phone while behind the wheel, and wear your seat belt. Sleep before hitting the road and try to avoid driving late into the night. Finally, keep a safe distance between other cars on the road. In snowy, wet, or icy conditions, you'll need extra space to stop.
If you've been in an accident on Boise roads, there are also several things you can do to stay safe. First off, stay in your car and call for help. Make a police report and if you have flares, use them to mark off the scene of the accident to warn and protect other drivers. Seek medical attention as soon as possible. Depending on how your car appears, you may need to call an auto transport service to haul your car away. Finally, you may want to speak to a personal injury lawyer like the Law Office of Johnson & Lundgreen.
A Boise or Nampa car accident lawyer can review the facts of your accident and help you get the recovery you may deserve. The law offers important protections to individuals who have been personally injured. You may be entitled to receive money to cover medical expenses, pain and suffering, and lost wages.
Visit our website or give us a call to learn more today.
https://johnsonandlundgreen.com/wp-content/uploads/2022/04/winter-3339626_640.jpg
427
640
Joe Frick
https://johnsonandlundgreen.com/wp-content/uploads/2022/03/johnson-logo-2.png
Joe Frick
2017-01-06 17:21:53
2017-01-06 17:21:53
In an Accident on Snowy Boise Roads? What You Need to Do