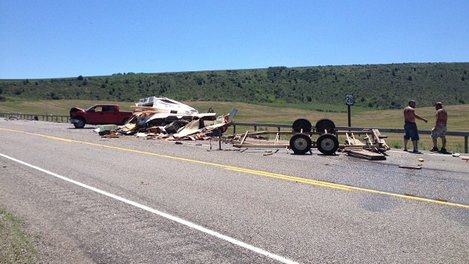 Car and truck accidents occur for a variety of reasons. Drivers may be distracted, or sleepy. In some cases, drivers fail to obey the rules of the road. In other cases, drivers may have been speeding. When an accident occurs and there is a clear negligent party, victims have a clear course of action. Idaho offers protections that allow citizens to due negligent parties for pain and suffering, medical bills, and rehabilitation costs following a personal injury due to a car accident.
But, what happens if the negligent party isn't a person? What happens when the circumstances that led to the accident were hazardous road conditions?
Suing the government for hazardous roadways can be challenging. For instance, it can be difficult to sue the government if an accident occurred due to negligence on the part of a government worker. Sovereign immunity laws limit tort claims against the government in these cases. The Idaho legislature offers an extensive list of government entities exempt from suit. For instance, correctional facilities cannot be sued for failure to provide adequate medical care to an inmate. Additionally, individuals in custody are not able to sue officers or the government for any injury that occurs while a person is detained. However, individuals can, in certain circumstances sue the federal government. The Federal Tort Claims Act was passed to increase the accountability of the federal government.
Additionally, it can be difficult to sue the government if an individual is injured in a car accident that occurs due to a police chase or due to a speeding emergency vehicle. Sovereign immunity laws often protect these government employees in these cases.
Yet, when it comes to hazardous road conditions, there may be options to sue. Roadside hazards, uneven pavement, and improperly-marked construction zones are all hazards where individuals may be able to bring tort claims against the government for negligence. Responsibility for road conditions usually lies with either the state agency or the federal agency responsible for road construction. The government often contracts private companies to perform road work. In this case, individuals may be able to sue the contracting company if it fails to act responsibly or properly mark construction zones where there may be hazards.
If you have been injured in an accident due to a hazardous roadway, you'll have to prove to the court that the conditions were dangerous and that the agency or company responsible for maintaining the road failed to perform necessary repairs or maintenance. If the group responsible is a contracting company, you'll likely have an easier time.
If you've been injured due to hazardous road conditions, you may be able to receive compensation for your medical bills, lost wages, and pain and suffering. An experienced personal injury lawyer in Meridian or Boise, Idaho can help you if you've been injured on hazardous roads. The Law Office of Johnson & Lundgreen offers skilled representation for individuals who have suffered a personal injury through no fault of their own. Contact the firm today to learn more about how you can seek justice for your injuries.
https://johnsonandlundgreen.com/wp-content/uploads/2022/04/fatal-crash-bonneville-county-070614.jpg
264
469
Joe Frick
https://johnsonandlundgreen.com/wp-content/uploads/2022/03/johnson-logo-2.png
Joe Frick
2015-02-27 19:31:32
2015-02-27 19:31:32
Can I Sue the Government for Hazardous Roadway Conditions?