A Meridian woman is ready to share her story after four long years of recovery that followed a car accident. KTVB News reports that Ashley Zumbrunnen decided to speak up in the hopes that others could learn from her mistake and save themselves the pain and frustration that she's endured. She said that she led a normal life before one mistake changed that forever.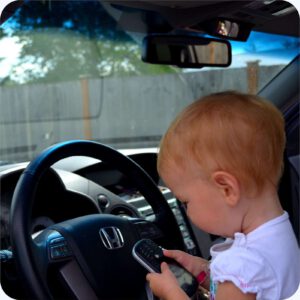 Zumbrunnen was driving to work on Highway 55 when she decided to send a quick text message to her husband to tell him that she loved him. By the time she finished texting, the car was drifting into oncoming traffic. She panicked and swerved back into her lane.
She turned the wheel too hard and lost control of her vehicle; it flipped onto the side of the road. As soon as the shock of the accident wore off, she realized that she couldn't move. Later, at a regional medical center, doctors told Zumbrunnen that her neck was broken and she was paralyzed.
The Accident Changed Her Relationship To Her Family And She Is Still Recovering Physically
After four years, Zumbrunnen is still in physical therapy, hoping that one day she might be able to walk. She is not able to bathe herself, use the restroom on her own or dress herself. She is now divorced and is finding it difficult to interact with her daughter who is still waiting for her mom to walk again.
Zumbrunnen plans to speak at Meridian schools in order to effect change and keep others from texting while driving (TWD). Evidently, more people need to hear her story; according to the National Highway Transportation Safety Administration (NHTSA), TWD caused more than 1.6 million accidents last year.
If a distracted driver has injured you, you might find it difficult to recover the compensation that you are owed. Insurance companies often drag their feet or claim that you are entitled to less than what is fair. At The Law Offices of Johnson and Lundgreen, we can help you secure the compensation you need to put the car accident behind you. To schedule a consultation, Call Us At 208-376-5256 Today!
A Recent Study Determined That TWD Is Six Times More Dangerous Than DUI
NHTSA conducted a study to gauge the difference in impairment between drinking and texting while driving by measuring how long it took for a person driving at 70 miles per hour to brake when visually prompted to. The Washington Time reports that legally drunk participants stopped four feet after unimpaired drivers. Texting drivers stopped an average of 70 feet after the same mark.
There is no excuse for texting and driving, which is why we fight for our clients to make sure that they are fairly compensated for their injuries. We can help ensure that you aren't stuck with large medical bills after an accident that you didn't cause. To speak to an attorney about your accident, Call Us At 208-376-5256 Today!
https://johnsonandlundgreen.com/wp-content/uploads/2022/04/photodune-824945-car-accident-xs.jpg
365
548
damg
https://johnsonandlundgreen.com/wp-content/uploads/2022/03/johnson-logo-2.png
damg
2013-12-18 21:09:06
2013-12-18 21:09:06
Car Accident Survivor Speaks