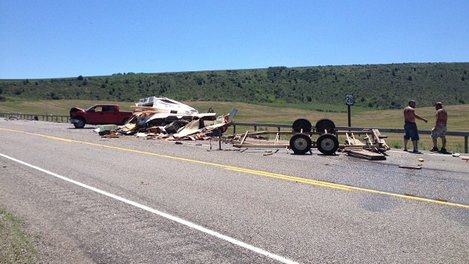 On Wednesday, January 21, Ohio officials continued to investigate a deadly overpass exit collapse, even as construction work resumed in the area. The overpass collapse closed southbound lanes of Interstate 75, blocking the road with debris. The contractor, Kokosing Construction, managed to clear away the tons of debris by Wednesday, opening I-75 to traffic.
The Idaho State Journal reports that police are relieved that the collapse occurred late in the night. The interstate can carry as many as 170,000 cars a day, and police believe that casualties might have been higher had the accident occurred during daylight hours. As it stands, one construction worker was killed and one tractor trailer driver was injured as a result of the collapse. The accident took place at around 10:30 p.m. on Monday evening.
America's transportation infrastructure has long been in need of some major repairs. The problem has been so severe that even The Economist wrote, "American cities have suffered a rash of recent infrastructure calamities, from the failure of the New Orleans levees, to the collapse of a highway bridge in Minneapolis . . ."
America's roads, railroads, and bridges receive consistently low marks by America's civil engineers. The World Economic Forum ranked America 23rd in the world for infrastructure quality. For a country with such wealth and power, this ranking is abysmal.
Furthermore, America ranks third in the world for traffic congestion in cities. Our roadways not only fail us structurally, they fail us in terms of their capacity to manage the daily traffic demands of city rush hours. Higher traffic means more accidents. In many American cities, there simply is no alternative but to drive. Americans often don't have a choice to choose public transportation in order to place less stress on highway systems.
Europe offers its citizens a reliable high-speed rail system, whereas U.S. trains are reliably late. America's most reliable railway line between Boston and Washington D.C. only goes 70 miles per hour, compared to Paris's high-speed rail that can reach speeds of 140 miles per hour.
Drivers find themselves in a situation where they have no choice but to navigate sometimes unsafe roads. Cities, state government, and the federal government have a responsibility to ensure that individuals who drive on the highway are safe. Roadways should be free of potholes and trash, and should be structurally sound. Despite America's wealth, we spend only about 2% of our GDP on infrastructure, compared to the 5% spent by Europe, and the 9% spent by China.
Until the U.S. finds ways to raise revenues to increase infrastructure standards, it seems that we'll continue to see personal injuries as a result of problems with roadways and traffic.
The problem is not likely to be solved any time soon. Drivers on the road should use caution around construction sites and be aware of road hazards at all times. If you've been injured in a car accident in Meridian or Boise, Idaho, a personal injury lawyer can help you receive reimbursement for your injuries. The Law Office of Johnson and Lundgreen offers free case evaluations for injured individuals.
https://johnsonandlundgreen.com/wp-content/uploads/2022/04/fatal-crash-bonneville-county-070614.jpg
264
469
damg
https://johnsonandlundgreen.com/wp-content/uploads/2022/03/johnson-logo-2.png
damg
2015-01-23 18:51:30
2015-01-23 18:51:30
Deadly Overpass Accident Kills One Person