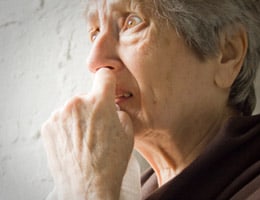 According to the Idaho Commission on Aging, every year, about 2.1 million Americans become victims of elder abuse. Unfortunately, for every reported case, some experts believe that five cases go unreported.
The Idaho Commission on Aging defines abuse as "intentional or negligent infliction of physical pain, injury, or mental injury." Neglect is also a form of abuse and occurs when a caretaker doesn't provide adequate housing, clothes, or food, or fails to provide proper medical care to a vulnerable adult for whom they are responsible. Exploitation is the misuse of funds, financial power of attorney, or the use of resources in a way that is not in the best interests of the individual who owns the funds.
The Idaho Commission on Aging defines a vulnerable adult as any individual over 18 years of age "who is unable to protect himself from abuse, neglect, or exploitation due to physical or mental impairment."
How can you prevent or detect elder abuse or neglect? Here are five ways you can help:
Know the signs. If you notice changes in personality not attributable to dementia or other degenerative mental disorder, you may want to investigate further. Bruises or scars, inexplicable injuries, broken bones, not taking medication or taking too much, broken glasses, or any evidence of physical restraint are all warning signs of elder abuse and should be addressed. A caretaker should never refuse to let you be with your loved one alone. Further signs include weight loss, untreated bed sores, insects, soiled clothing, or unsafe housing conditions (no heat or running water, fire hazards, walking hazards).
Educate yourself and your financial advisors about the signs of financial exploitation. Your family's financial advisor or bank should be informed about your loved one's situation. You or your financial advisor should keep an eye on bank accounts and other assets to check for sudden large withdrawals. Check bank statements for withdrawals that couldn't be performed due to hospitalization or illness. Sudden changes to power of attorneys or wills should be properly investigated.
Talk to your elderly relatives and their caregivers. Get to know caregivers and ask questions about when your relative is fed, washed, and when medication is administered. Be informed about doctor's visits and make sure that the channels of communication remain open. Inspect living quarters and living areas to ensure that they are safe and accessible.
Talk to your elderly relatives' doctors and medical providers. Understanding your relative's medical needs can help you protect your relative in the case of neglect. Record all medications and when they should be taken. When you visit your relative, check medicines to ensure that there isn't left over medicine or too little medicine. Find out when prescriptions are to be renewed and ensure that new medication is obtained in a timely manner.
Contact adult protective services if you spot signs of abuse. Report all cases of abuse immediately. Contacting a lawyer to protect you and your loved one's interests is also a prudent course of action.
If your loved one has suffered from elder abuse of any kind, the law affords protections to ensure that justice is served. You and your loved one may be entitled to compensation under the law to help you pay medical bills, care, and recovery for a loved one who has suffered from neglect or abuse. Furthermore, you may be entitled to additional compensation for pain and suffering. Johnson & Lundgreen are personal injury lawyers in Meridian and Boise, Idaho who can help you if your loved ones have suffered. Visit https://johnsonandlundgreen.com to learn more about our suite of services.
https://johnsonandlundgreen.com/wp-content/uploads/2022/04/abused-elder-woman.jpg
200
260
Joe Frick
https://johnsonandlundgreen.com/wp-content/uploads/2022/03/johnson-logo-2.png
Joe Frick
2014-08-08 18:05:14
2014-08-08 18:05:14
Five Ways To Prevent and Detect Elder Abuse