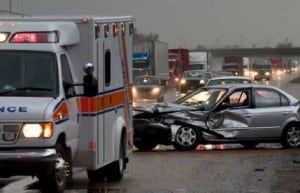 Cars may be the most dangerous invention that man has ever made. The average U.S. car weighs in at 4,000 pounds, and there are more than 250 million of them on the road today. It's no wonder that more than 29,000 people die each year in car accidents, according to the National Highway Traffic Safety Administration.
There are two main types of negligence that often cause car accidents and lead to personal-injury lawsuits. Both a driver's recklessness and a car manufacturer's carelessness can cause serious injuries to an innocent driver. These victims suffer from severe and long-term injuries that strain their lives personally and financially.
Fortunately, if you're a victim of negligence, personal-injury laws give you the right to file a lawsuit to recover the compensation you need to properly address your injuries.
If you're looking for a Meridian accident lawyer to help you file your claim, call us to schedule a free consultation. At the Law Offices of Johnson & Lundgreen, we offer our clients experience and compassion, and we are committed to representing victims in the Treasure Valley.
To speak with an accident lawyer from our office about your accident, call us at 208-376-5256
Distracted And Reckless Driving Cause Serious Car Accidents On A Regular Basis
FOX News reports that an illegal U-turn resulted in serious injuries along a state highway. The Idaho State Police believe that Bernadette Nelson used an emergency crossover to turn around. State law reserves those areas for emergency and police vehicles only because they're extremely dangerous when used by the general public.
Nelson pulled in front of a driver heading in the opposite direction, causing a high-speed collision. Both Nelson and her victim, Emily Osterhout-Priest, suffered serious injuries and required emergency treatment. A police investigation revealed that Nelson may have been drinking before the accident occurred.
In this situation, Osterhout-Priest could file a personal-injury lawsuit in an attempt to recover compensation for her medical expenses. If police determine that Nelson's blood-alcohol content was above the legal limit, Osterhout-Priest may have an easier time proving negligence.
Idaho Family Joins Demonstration Against GM Over Faulty Ignition Switches
The most recent case of car manufacturer negligence surfaced fairly recently, when an engineer discovered a serious flaw in the ignition switches of several GM makes. The report turned into a scandal when an investigation exposed the fact that GM employees knew about the problem for years and never initiated a recall.
Since then, the families of people who died as a result of the flaw sued the manufacturer. The Idaho Statesman reports that an Idaho family believes their loved one died after a faulty ignition switch caused his vehicle's engine to stall.
In total, 13 people died because GM failed to issue a recall for the part. After the issue made headlines, GM recalled more than 2.6 million vehicles.
Whether your injuries are the result of corporate negligence or another driver's reckless behavior, we can help you find justice in a civil courtroom. We have more than 40 years of combined experience, so you can rely on us to thoroughly investigate your accident to prove negligence occurred.
To schedule a consultation, call us today at 208-376-5256.
https://johnsonandlundgreen.com/wp-content/uploads/2022/04/car-accident-lawyer-cover-your-expense-300x193-1.jpg
193
300
damg
https://johnsonandlundgreen.com/wp-content/uploads/2022/03/johnson-logo-2.png
damg
2014-04-07 18:23:26
2014-04-07 18:23:26
Idaho Accident-Lawyer News Roundup