BOISE and NAMPA, Idaho. A lawmaker who fought to eliminate universal helmet laws has recently died in a motorcycle accident. He was wearing a helmet at the time of the crash.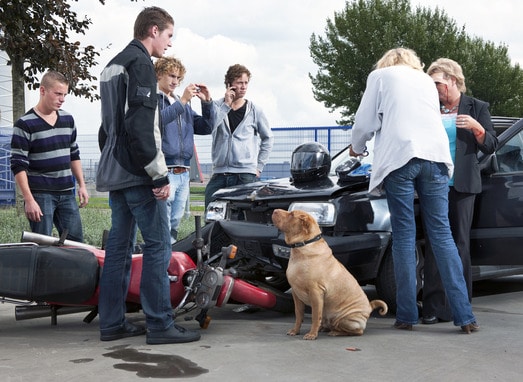 The representative was riding his motorcycle on a highway in Northern Michigan when a pickup truck turned left. Despite the fact that the lawmaker was wearing his helmet, he died when his motorcycle broadsided the truck. According to CNN, Michigan is one of the states where motorcyclists are not legally required to wear helmets. Likewise, under Idaho law, helmet use is optional for drivers who are 18 years or older. Yet, even though Idaho doesn't require motorcyclists to wear helmets, riders should carefully consider the consequences of failing to wear a helmet.
For instance, if you are involved in a motorcycle accident and suffer a head injury, you may be entitled to collect damages if the other driver was at fault for your accident. However, if you were not wearing a helmet at the time of the accident, and if a helmet would have reasonably been expected to reduce your head injuries, you may not receive the same kind of recovery. Wearing a helmet thus has the benefit not only of protecting a motorcyclist's physical well being while riding, but also his or her financial well being should an accident occur. Of course, the issue of liability following a motorcycle accident is complex. Individuals should not assume that failure to wear a helmet means they cannot seek a recovery to cover medical expenses, lost wages, and pain and suffering after an accident. The Law Office of Johnson & Lundgreen are motorcycle accident lawyers who understand the unique challenges riders face after a crash. Contact our Boise and Nampa, Idaho personal injury firm today to learn more.
While many believe that helmet use should be a personal decision and not regulated by the state, even those who fight for the freedom to choose, ultimately choose to wear a helmet. According to a University of Michigan study, motorcyclists who are not wearing helmets are twice as likely to die in a motorcycle accident. In fact, after motorcycle helmet laws were repealed, researchers and doctors began seeing more head injuries. The cost of medical care for riders who do not wear a helmet is also higher. The average cost of medical care for riders who are injured while not wearing a helmet was $28,000. These numbers don't factor in the immense pain and suffering, missed time at work, and lifestyle changes individuals may experience after a crash.
If you or a loved one has been injured in a motorcycle accident, it is important to understand that you are not alone. A motorcycle accident lawyer may be able to assist you in getting the recovery you may deserve. Visit us at johnsonandlundgreen.com to learn more and to protect your rights. You and your family may be able to receive a recovery to cover medical expenses, lost wages, and pain and suffering damages.
https://johnsonandlundgreen.com/wp-content/uploads/2022/04/photodune-1391421-motorcycle-xs.jpg
364
550
Joe Frick
https://johnsonandlundgreen.com/wp-content/uploads/2022/03/johnson-logo-2.png
Joe Frick
2016-09-16 16:24:18
2016-09-16 16:24:18
Lawmaker Who Was Against Universal Helmet Laws Dies in Motorcycle Accident