When a semi-trailer travelling more than 50 miles per hour crashes into concrete barriers, it's easy to imagine that the driver and anyone else involved would be lucky to survive. According to KTVB News, a truck driver and two passengers escaped a late-night crash with only a few injuries.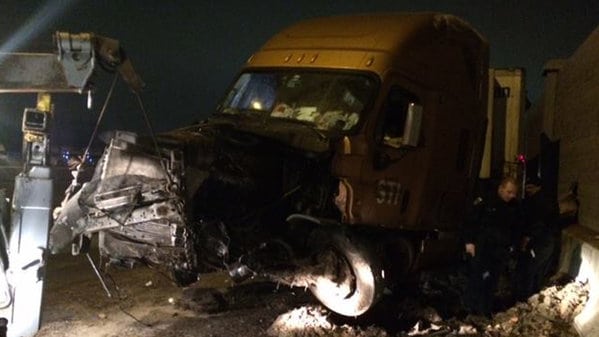 According to Idaho State Police (ISP), the incident began when a car struck a light pole at around 2:30 a.m. on Interstate 84. The pole fell over, covering two lanes.
Police still aren't sure why the driver of the vehicle left the scene of the accident instead of calling for help. The driver of a semi-trailer was unable to avoid the pole by the time it was within view, and the truck ran over the largest part, which became lodged in the steering mechanism and forced the truck into the median.
Pictures of the accident show that the front end of the semi-trailer was obliterated in the crash, with one tire missing and the other pushed back under the driver's side door. Fortunately, the three people in the cab were able to walk away. Two of the victims received very minor injuries while the third suffered multiple broken ribs. Because the crash occurred late at night, no one else was injured.
The Truck Contained Only One Very Expensive Piece Of Cargo
The truck was carrying a $2 million painting that was en route to a museum. Fortunately, the painting was not damaged during the wreck, and the trucking company says it's back on its way to the museum.
If you have been injured in an accident that was caused by a negligent driver, you have the right to pursue compensation for your injuries through a personal-injury lawsuit. If you find yourself in need of an accident lawyer in Meridian, we urge you to contact us.
At the Law Offices of Johnson & Lundgreen, we are a pair of local, experienced attorneys who will work hard to represent your interests and defend your rights in court. To schedule a free consultation, Call Us At 208-376-5256 Today!
The Police Are Still Investigating The Truck Accident
ISP has not issued any citations so far, but that could change if they find the driver who struck the pole in the first place. That driver could be held responsible for causing the accident because they failed to report the hazard.
This accident is a good reminder that even though the inversion has lifted over the Treasure Valley and temperatures have risen, drivers should still exercise caution on the road, especially on highways. At the Law Offices of Johnson & Lundgreen, we have more than 40 years of combined experience in the courtroom. To discuss your case, Call Us At 208-376-5256 Today!
https://johnsonandlundgreen.com/wp-content/uploads/2022/04/photodune-4699168-car-crash-insurance-concept-xs.jpg
365
549
damg
https://johnsonandlundgreen.com/wp-content/uploads/2022/03/johnson-logo-2.png
damg
2014-02-06 16:38:16
2014-02-06 16:38:16
News From Your Accident Lawyer: Accident On I-84 Causes 3 Injuries