Think you're safe from negligent drivers while in a store? Think again.
The Idaho Press-Tribune reports that a 72-year-old driver crashed into a Verizon store in the middle of the day. The vehicle struck several people before hitting a wall and coming to a stop. A store employee was rushed to the hospital with a serious leg injury. Fortunately, the injury is non-life threatening.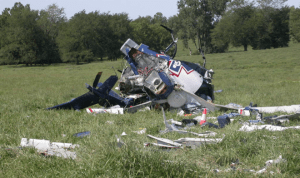 A few of the customers also received injuries and were treated by emergency medical personnel at the scene and released. Although the elderly driver has not been cited for the accident, the police say they are still investigating.
The Car Accident Could Provoke A Discussion About Elderly Drivers And Safety Issues
A preliminary report suggests that the police do not suspect the driver, who only has one leg, of drinking and driving. Rather, the police believe that she accidentally pressed the gas when pulling into a parking spot. Police say that they may ask the department of motor vehicles to revoke her driver's license.
The accident is similar to one that took place in a church parking lot just last month. The driver in that case also pressed the wrong pedal, killing four people. It has since raised questions about elderly drivers and how to keep the roads safe.
Even compact cars weigh more than 3,000 pounds, so no instance of negligent driving should be taken lightly. If you have been injured by a negligent driver, you have the right to seek compensation for your injuries through a lawsuit. At the Law Offices of Johnson & Lundgreen, we pride ourselves on helping to protect the rights of Idahoans.
To speak with a personal-injury lawyer in Meridian, Call Us At 208-376-5256 Today!
Christmas Tree Farmer Sues Idaho-Based Helicopter Company
In other recent news, Oregon Live reports that John A. Blackwell filed a lawsuit against a helicopter company in Idaho after he was accidently lifted off the ground and fell.
The helicopter was picking up a group of trees from a Christmas tree farm. The farm's employees are responsible for attaching the helicopter's cable to the bundle of trees, and Blackwell says that the pilot is supposed to wait for an "all clear" signal from the worker before taking off.
He says that last November, a pilot failed to wait for the all-clear and began to take off. Blackwell was lifted about 5 feet from the ground before he managed to get free. He fell and fractured his back. He is seeking compensation for medical expenses and pain and suffering.
At the Law Offices of Johnson & Lundgreen, we handle a wide variety of cases including car accidents, pedestrian accidents, slips and falls and nursing-home abuse. If you've been injured in Meridian, we can help you recover the compensation you deserve. Call Us At 208-376-5256 Today!
https://johnsonandlundgreen.com/wp-content/uploads/2022/04/photodune-1865919-personal-injury-claim-xs.jpg
365
548
Joe Frick
https://johnsonandlundgreen.com/wp-content/uploads/2022/03/johnson-logo-2.png
Joe Frick
2014-03-18 21:44:58
2014-03-18 21:44:58
Personal-Injury Lawyer News In Idaho