Idaho is a recreational state year 'round. Now that summer is in full effect, it's common to see cars towing boats and RVs helping people enjoy the outdoors.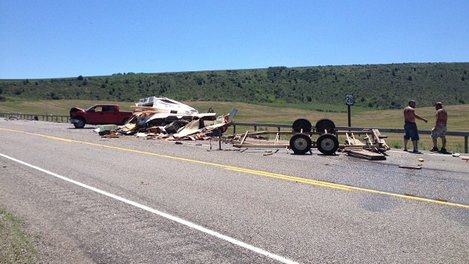 However, if drivers aren't careful, trailers can cause serious car wrecks. These accidents generally follow the same pattern: If the driver changes lanes too quickly or is speeding, they may experience trailer sway, which is also known as "fishtailing." When this occurs, the trailer may begin to swing violently from side to side before forcing the car to turn at high speeds.
Single-axle trailers are more prone to sway, as are trailers that have uneven tires. There is some evidence that improperly balancing the trailer's load can also lead to sway. In any case, it is a common cause of accidents in Meridian, and KMTV News reports that an Idaho driver caused a wreck due to a fishtailing trailer.
Early in the afternoon, Joshua Nichols lost control of his pickup truck after his small trailer began to sway. He crossed into oncoming traffic and struck a Lexus. The crash caused his vehicle to roll and the Lexus to crash into a guardrail.
The Car Crash Led to Several Serious Injuries and One Death
Police say one of Nichols' passengers died at the scene of the car crash. Nichols and four children, who were also in the truck, suffered serious injuries that required hospitalization.
The driver of the Lexus also required emergency medical attention, as did her three passengers. Depending on the cause of the trailer sway, those injured in the Lexus could have a strong injury case against Nichols for driving negligently.
If you've suffered injuries in a car crash in Meridian, a personal-injury attorney can help you seek justice through a civil lawsuit. At Johnson & Lundgreen, P.C., we specialize in car-accident lawsuits, and you can count on our 40 years of experience in the courtroom. To speak with a personal-injury lawyer about your accident, call us at 208-376-5256.
Police Say Citing Texting Drivers Isn't Making a Difference
Fishtailing trailers aren't the only problems on Idaho roads. KBOI News reports that Meridian police officers issue approximately 200 texting citations every year, but that hasn't changed the number of distracted drivers.
The city had a texting ban in place before the state ban went into effect, but the latest statistics aren't encouraging. Officers say that part of the problem is the people they cite don't believe they were doing anything wrong. Police say the average driver generally says they were only reading texts and don't understand how that could be distracting.
If you are injured by a texting driver, a personal-injury lawyer can help you obtain compensation for medical expenses and lost wages. At Johnson & Lundgreen, P.C., we are committed to standing up for negligent driving victims through civil lawsuits. We've handled thousands of cases but provide all clients with the individual attention that their cases deserve. To learn more about our services, call us at 208-376-5256.
https://johnsonandlundgreen.com/wp-content/uploads/2022/04/140630_meridian_police_texting.jpg
428
660
Joe Frick
https://johnsonandlundgreen.com/wp-content/uploads/2022/03/johnson-logo-2.png
Joe Frick
2014-07-17 17:39:36
2014-07-17 17:39:36
Personal-Injury Lawyer Report: Idaho Woman Dies in Car Accident