Follow a manual added link
VISIT US – MERIDIAN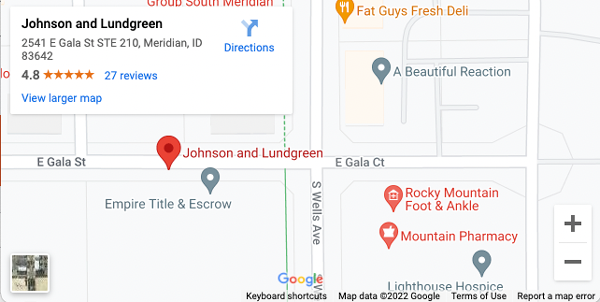 Johnson and Lundgreen
2541 E Gala St, Ste. 210
Meridian, ID 83642
Phone:(208) 376-5256
Follow a manual added link
NAMPA – BY APPOINTMENT ONLY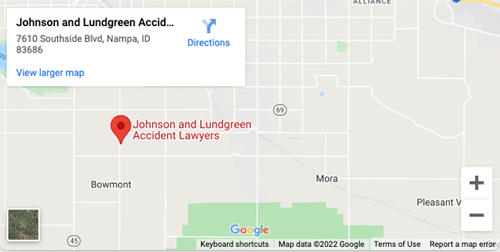 7610 Southside Blvd
Nampa, ID 83686
Phone:(208) 466-4292
Follow a manual added link
BOISE – BY APPOINTMENT ONLY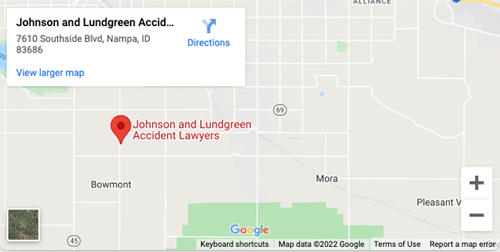 250 S. 5th St., Suite 300
Boise, ID 83702
Phone:(208) 376-5256
Contact Us For a Free Case Evaluation
See What Our Clients Think!
They're my lawyers
Scott was fantastic. He represented me very well in my case and got a very fair settlement without having to go to court. Scott listens to his clients and provides honest kind advice. Following his lead procured the best possible outcome for my husband and I. Thank You to Scott and his team of professionals.
David McCormick
2021-01-02
Super friendly and helpful staff, kept me informed of every step and made me feel welcome every time I came in, lovely people to work with and they get the job done the right way.
Scott Lundgreen is one of the most compassionate, hard working, exemplary attorney I have ever had the pleasure to work for me. He is an outstanding person who actually sincerely cares about his clients. He went over and above for me and my family. I can't thank you guys enough for everything you have done. Thank you for helping us through my horrific motorcycle accident.
They are great they are very friendly and helpful and the staff is the best and I would recommend them to anyone
Fantastic experience with Mr. Lundgreen. Im grateful for his expertise. I would recommend his office 100%. I have only good things to say about them! Thank you for taking the best care of us Scott.
BlueShark Beauty
2019-07-21
Helped me alot with my horrible car crash. They were patient and honest. I will always recommend these guys.
We work with people throughout the Treasure Valley on cases of personal injury: Automobile accidents, slips and falls, dog bites, etc. We take cases on a contingent fee basis meaning you pay no attorney fee unless we recover money for you.