Winter in Meridian this year has been absolutely frigid, especially when compared to last year. Temperatures sank to minus 6 degrees over the weekend, with the high temperature at only 20 degrees. Skiers and snowboarders are enjoying Bogus, which just opened for what looks to be a great season, but the commuters and emergency responders are not as thrilled by the weather.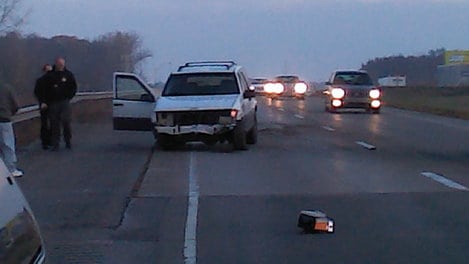 High-traffic roads, such as State Street and Eagle Road, have seen a sharp increase in the amount of slide-offs and car wrecks. The conditions make it difficult for emergency personnel to clear the roadway after an accident, which leads to long delays for Meridian residents who commute to Boise for work.
Many people assume that they are safe so long as they practice defensive driving, but even the best drivers are vulnerable to the reckless driving habits of other commuters. If you have been injured in an accident with a negligent driver, let us help you recover the compensation you deserve. At the Johnson and Lundgreen Law Firm, we specialize in helping Meridian residents reach quick and fair resolutions to their personal-injury claims. To schedule a free consultation, Call Us At 208-376-5256 Today!
1. Slow Down
It's been snowing hard in the valley, and the Idaho State Police (ISP) have been busy with an elevated rate of car wrecks. KTVB News reports that the ISP are cautioning drivers to slow down and leave plenty of room between themselves and other drivers, even if that means driving below the speed limit. For those who take the connector to work in the morning, make sure to look for black ice before trusting that you can drive at the speed limit.
2. Keep An Eye Out For Black Ice
Black ice most often forms in the early morning or in the evening, but it can appear during the day, especially when the weather is below freezing. Sometimes, black ice is too thin and transparent to see, so make sure to slow down during turns to be safe.
If you do hit a patch of black ice, the best thing to do is stay as calm as possible. Keep your steering wheel straight, and do not apply the brakes. This will allow you to pass over the ice and regain control. If, however, the rear wheels begin to slide to one side, gently move the steering wheel in the same direction.
3. Learn How To Brake On Ice And Snow
Once you lose control of your vehicle, it pays to know what you should and should not do. If you have antilock brakes (ABS), then your job is simple: push down on the brake and hold it there. The ABS should engage, and you'll feel a pulsing sensation. If you do not have ABS, you should use the break until you feel the wheels stop rolling; then, release. Repeat that process until you regain control.
4. If You Are In An Accident, Contact A Personal-Injury Attorney Right Away
If the worst happens, and you are injured in an accident this winter, give us a call. We know that the last thing you want to be doing during the holidays is negotiating with a stubborn insurance company and worrying about how you will pay your medical bills. Instead, let us handle it for you. We can work with the insurance companies to reach a settlement or take them to court to make sure you are fairly compensated. To speak to an attorney about your accident, Call Us At 208-376-5256 Today!
https://johnsonandlundgreen.com/wp-content/uploads/2022/04/photodune-1305198-winter-car-crash-accident-xs.jpg
364
548
Joe Frick
https://johnsonandlundgreen.com/wp-content/uploads/2022/03/johnson-logo-2.png
Joe Frick
2013-12-10 21:56:13
2013-12-10 21:56:13
Avoiding Winter-Driving Car Wrecks